Get Involved
You can help honor those who protect us.
Though we encourage you to consider becoming a member to help support the mission of the 300 Club of Atlanta, there are other important ways you can be involved.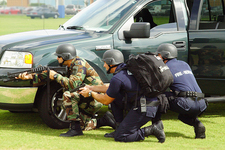 If you are moved, as we are, to recognize our public service officials and support their families, you may wish to make a financial contribution instead of — or addition to — becoming a member.
Do you know a person that you believe deserves recognition for an act of heroism or going beyond the call of duty? Please, let us know. This individuals generally do not seek recognition for themselves, and without your input we might never know about them.
Please contact us today to: